TICKET DETAILS
Four (4) GA Admission & One (1) Recreational Vehicle for
Saturday & Sunday
May 21 - 22, 2022
Gates open at 9:00AM
75368 Moonshadow Ln, Abita Springs, LA 70420


ABOUT
This pass includes ONE RV RENTAL PLUS Four General Admission Passes. If more than 4 people are part of your party, please have them purchase either a GA or VIP Weekend pass.
A blend of diversity from mainly New Orleans musicians showcasing genres from funk, jazz, soul, indie, punk, rock, & jam with late night electronica festivities to end the night!
DJ Eclipsa
Madspinnz
Miles.WAV
Hetti
Abita Springs Be & Be land is sacred, special and secluded. This beautiful 88-acre property is equipped with two labyrinths, two lakes, a watsu pool, a sauna and a non-denominational temple just to name a few amenities.
Our designated healing tent includes programmed activities such as cacao ceremonies, guided meditation, yoga classes, self development seminars, and more! Updated schedule will be released soon!
Inspiring positive social change by challenging each other to exchange ideas, unite minds and make waves that can be brought home. We are partnering up with independent artists for installations, performances, live painting, and more!
Small businesses have partnered up with us to provide nourishment to your souls through food and crafts! Be sure to bring cash!
Food
Craft
AVIV
CBD Store New Orleans
Cindy Teague
NO ENTRY AFTER DARK!
ONCE PARKED IN DESIGNATED AREA PLEASE DON'T MOVE YOUR CAR. If you plan on camping with a group, please coordinate travel plans in advance to enter the festival grounds together or plan to park where directed and then moving your gear by foot.
No animals allowed
Ride-sharing is extremely advised!
Clothing Optional Pool Hours is 12AM+ (LATE NIGHT)
The Tree House is Clothing Optional 24HRS
It's warm during the day and gets chilly at night! Check out our suggested packing list!
RV DETAILS
Our RVs sleep up to 4 people comfortably. Each RV is slightly different, but you can expect a main bedroom that has a foam mattress. Some have 2 bunk beds in the back of the camper, others have fold out couches that act as a bed. Very spacious and convenient. Most have a big flat screen TV in the living room and an awesome outdoor kitchen to entertain your party outside and enjoy the great outdoors. Some come equipped with fold up chairs to sit outside with your party as well. ​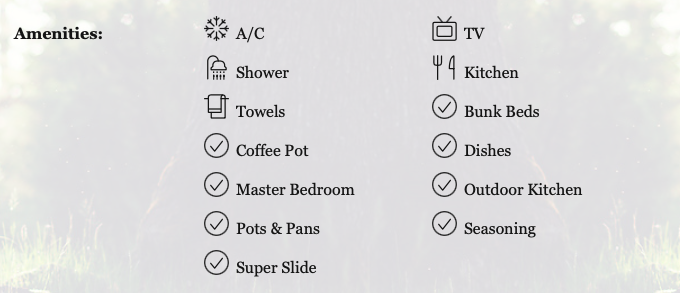 FESTIVAL MAP